Naver 'Power Link' Inflate Advertising Cost?
페이지 정보
작성자

권영화

작성일

17-10-25 11:05 조회2,959회 댓글0건
본문
Naver 'Power Link' Inflate Advertising Cost?
There are suspicions that it will not keep local restrictions and increase the amount of direct searches.
Weekly Donga, 2017, No. 1109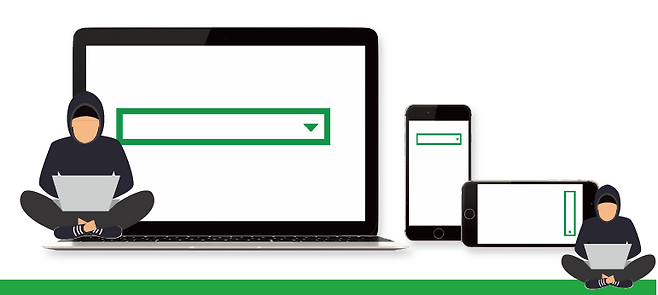 Naver 'Power Link' Inflate Advertising Cost?
Naver 'Power Link' Inflate Advertising Cost?
It is argued that the number of inquiries related to "Power Link," Naver's keyword search advertising system, or Naver's mismanagement is suspected. Powerlink is a service that exposes the homepage of the company that paid the advertisement fee to the top of the search when the specific search word is inputted into the Naver search window. Every time a user accesses an advertiser's website through a power link, the advertiser pays the agreed advertising costs to Naver.
Some advertisers argue, however, that advertising is being overpaid because the number of views in other regions is increasing as advertisers are not being forced to pay for Powerlink advertising only when they are connected from a specific geographic location. In addition, after tracking the IP (Internet Protocol) that was connected to the homepage through the power link, it is pointed out that Naver handled more than 100 searches directly and manipulated the number of views.
In the case of PowerLink, you can place a local limit on paying advertising costs only when you click on a power link in a specific region to access the advertiser's homepage. With this service, the home page of the company does not appear on the power link in other regions.
Why there is on this homepage?
Gyeongnam Regional Marriage Information Company A contracted with Naver to pay about 10,000 won per incident when a user was flown through Power Link in the condition that it was searched only in Busan and Gyeongnam. However, Company A insists that the local restrictions have not been adhered to as a result of confirming the IP that came on its homepage through Powerlink. The amount of searches in Seoul, Gyeonggi, and other regions was higher than the amount of power links in Busan and Gyeongnam. According to the analysis of the IP log analysis of the website of A company, from June 1 to July 17, 47 days, only 419 of the 419 accesses from the search terms were accessed from Busan and Gyeongnam area. The rest are all searched and accessed from other areas.
Company A said, "Region-based companies are limited in area because they are very unlikely to be linked to sales even if they search in Taji. However, if the number of searches is increased in the Taji, there will be no real effect.
Naver said the problem was caused by mobile access. Mobile access does not support local limit settings. An official of Naver said, "If the mobile phone company does not manage the base station IP by region and accesses it using 3G (3rd generation mobile communication) or LTE network, the accuracy of the regional classification through IP becomes poor. So, mobile connection does not support local limit setting. This is fully explained to the advertiser during the advertising contract. The customer center web page has a related guide and it is reflected in the terms. "
However, some experts question Naver's explanation. An Internet security expert said, "Mobile access IP is not as accurate as connecting through a computer, but it can distinguish between metropolitan cities and provinces."
A company official said, "Nowadays, there are a lot of cases to search on smartphone. Furthermore, it is difficult to accept that Naver, a provider of mobile location-based services such as maps and navigation, can not know the address of a mobile user. "I do not see anything other than trying to get more advertising dollars," he said.
Advertisers also raise the suspicion that many of the IPs that access their homepage via PowerLink are the same IP. If you check the IP, the same IP will search for another keyword at similar time, and access the homepage. In this case, the revenue will not help but the advertising costs will continue to be spent.
There are not even 10 guests in the right place.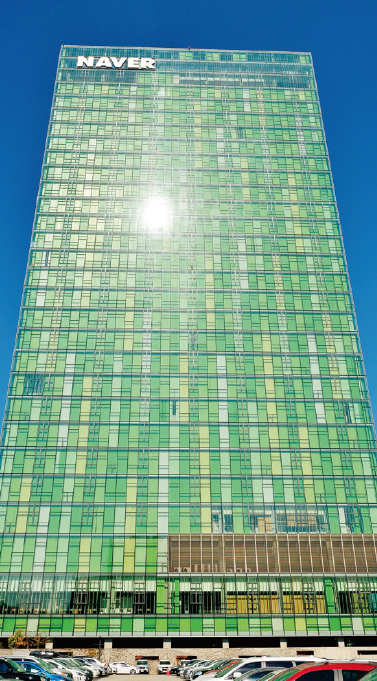 Naver 'Power Link' Inflate Advertising Cost?
Naver 'Green Factory' located in Bundang-gu, Seongnam city, Gyeonggi-do. [News]
In the industry, this is called "click fraud". "There are cases where a company that has been linked to a power link increases artificially inflows to hurt other companies," said Aimo, 42, a video-related company operating in Seongnam, Gyeonggi Province. In particular, hospitals and consulting companies, such as high-cost advertising industry, users get information through the search and become a real customer, often heard that this happened, "he said.
A company in Gyeongnam, which is using PowerLink service, inspects 80 ~ 90% of illegal clicks as a result of confirming the incoming IP of power link search in June ~ July. The representative of the company said, "Only one of the people who entered the homepage as a search word did not join. It is said that there is no profit generated by search ad because of click fraud. Naver said it is frustrating that it does not seem to be preparing countermeasures against such illegal clicks. " In addition to B, two companies in Yeongnam region also complained about similar complaints.
Naver said, "In order to check whether it is click fraud first, it is necessary to log access to the homepage." In the end, the advertiser is able to raise a problem to Naver after it confirms the illegal click by tracing the IP directly. Some employers are using log record verification companies because of click fraud. A representative of the company B said, "It is difficult to understand that it is necessary to pay for the advertising expenses and correct the wrong advertisement cost."
There were IPs that were found identically in all three of the IPs that three companies, including Company B, suspected to be click fraud. IP log analysis program. As a result, it was Green Factory which is the building of Seongnam 6. Naver Gyeongnam. As a result, among those paying for advertising on Naver, it is pointed out that Naver, who receives the advertising cost per search query, directly inflates the performance of Power Link by entering the website of the company through the power link.
Naver asked the company why he visited his company's homepage through a keyword search that he contracted directly with the advertiser. Naver said, "We are running various systems to visit advertiser websites for ad quality control. It seems that the contents that visited the site through the 'search advertisement invasion system' appear. The system searches the extracted keywords directly to find out whether the site is a content-only site or a phishing site without content. In addition, inflows through the escalation system do not incur any advertising costs or affect the price of a keyword ad. " In fact, Naver advertising homepage tab and advertisers' instructions included the contents.
Clicking on the click fraudulent IP ...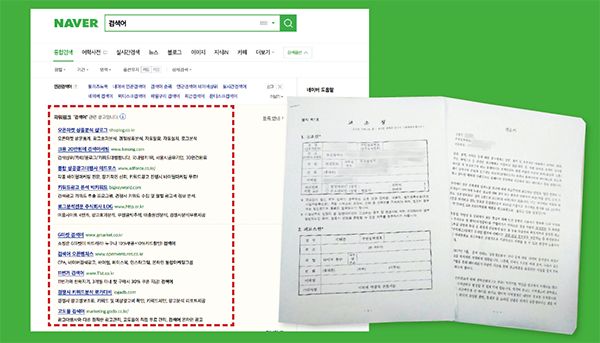 Naver 'Power Link' Inflate Advertising Cost?
However, the companies responded that "I can not believe that people manage their search results by searching directly." An information technology (IT) industry official said, "Actions such as managing ad quality or filtering phantom homepages are called" crawling. " This is usually done with an auto-connect program. I do not know exactly what Naver's ad management program is, but it would be much quicker to access it through Naver's own database, which is a wonder that people search for it all individually. "
In fact, through the connection IP log analysis program (IP analysis program), it was possible to easily distinguish between the contents automatically accessed and the contents retrieved by the person himself. If you enter the connection contents into the IP analysis program using the automatic connection program, the indication 'robot' appears.
Powerlink service is implemented not only in Naver but also in most portal sites in Korea. However, analyzing the log records of the websites of the three companies, it was not possible to find a person's direct IP like Naver. Other companies have access to the homepage through some search terms, but all were crawling through automatic access programs.
A Naver official said, "I tried to check if the web page was the same as the contents of the search robot (automatic access program) through the attack system." But the search was too frequent to simply confirm. Tourist company C in Busan and Kyungnam area visited Daejeon from June 1 to July 20 for 50 days. Simple calculation, visited the website of the company more than three times a day. In the same period, Dae, a document related company in Chungcheongnam-do, had 91 records of Naver's searches.
When asked about the reason for accessing the homepage of the same company for such a short period of time, Naver said, "In order to answer the inquiry, we need to check the company's homepage address, date and time of Naver server visit, I asked to hand it over.
As Naver claims, it is pointed out that the search itself is inflated even if the ad fee is not received. Naver said, "In order to improve the search quality, we do not have much access to the advertiser's homepage through keyword search, so it does not affect the total search volume."
In some cases, Naver filed a lawsuit complaining about the management of Powerlink ads. Consultant Mr. Yang(55), who was in charge of consulting with A Company, submitted a complaint to Naver Pusan District Prosecutors' Office on October 10, stating that Naver Power Link system management system had a problem. He signed a Powerlink advertising contract with Naver in July. Yang argued through the complaint and statement that Naver knew that the search area restrictions had not been properly maintained and did not take any action on the issue. Even though the 'Naver Map' service provides location-based services regardless of the mobile or personal computer (PC) environment, it claims that there is a problem with the terms and billing methods that are regarded as national advertisements.
Powerlink management leads to wrongful allegations
Mr. Yang points out that it is also a problem for Naver to search for Powerlink advertising keywords directly. Naver says that direct search, not automatic search, is simply a procedure for checking the search function, but in fact it is distorting the advertising effect while increasing its search volume. According to Naver, the contents of direct searches are not counted in search query ranking. However, Mr. Yang argues that the situation is different in the case of a company operating a homepage through a statement. As more people come to your homepage by searching for specific keywords, they will consider Powerlink ads naturally. There is a risk of spending more than necessary, and there may be competitive bidding with other companies.
Naver said that it is difficult to get accurate answers in cases where it does not know the connection IP log record. "However, Naver is operating a variety of systems to respond to abnormal clicks (incoming queries) And will reduce the inconvenience of advertisers. "
Naver Search
There has been a recent accusation by the prosecution that Dae - After setting a specific company's business name and related search terms, it repeatedly searched and manipulated the company's homepage or blog to be exposed above the search ranking. On September 27, the Supreme Criminal Investigation Division of the Supreme Prosecutors' Office of Seoul Central District Prosecutors Office charged two people, including Jang Mo (32, former professional gamer), for arresting Naver search rankings. According to the prosecution, Jang Seo-dang sent proposals related to promoting portal sites to restaurants, hospitals and private education companies from July 2014 until recently, reported tax revenue and acted as a legitimate company, manipulating 1.3 million search queries over 380,000 , Earning 3.35 billion won.
Naver has an 'IP filtering' system that does not reflect the search query in the same IP (Internet Protocol) when it repeatedly queries a specific query. However, they have been manipulating search rankings through their own programs.
This is not the first time a search ranking manipulation has been detected. In September last year, the Seoul Metropolitan Police Agency's cyber-safety department caught 30 people including Choi (42) on charges of raising 2.2 billion won in raising Naver's blog rankings. They used 'tethering' to create a Wi-Fi signal on their smartphone and then connect to the Internet. Tethering changed the IP every time I connected to the Internet, so I could avoid Naver filtering.
An official of B-company in Gyeongnam area who is using Power Link service said, "I think that the problem related to the search term had been done before (Naver side) enough. (Naver) said that the same problem is repeated in Power Link, which receives advertising costs.
#power link
#naver
#advertising costs.